ZX1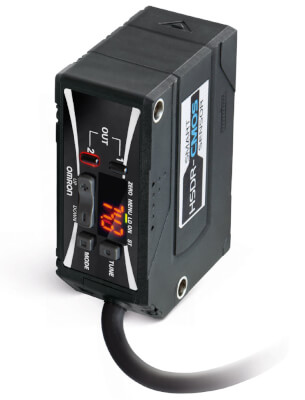 Максимальная эффективность для оптимальной производительности
Максимальная эффективность теперь доступна в размере спичечной коробки. Мы представляем новый класс измерительных датчиков, в которых используется усовершенствованный чип камеры HSDR-CMOS (быстродействующий датчик с широким динамическим диапазоном).
Стабильность измерений для объектов с любой поверхностью
Лучшая в своем классе точность и скорость
Компактный размер для быстрого крепления
Увеличенный диапазон измерения
Простая настройка одной кнопкой, интеллектуальная настройка
Надежность измерений в агрессивных средах
Встроенный дисплей
Ordering information
Sensors
Accessories (sold separately)
Extension cables for pre-wired connector models
An Extension cable is not provided with the sensor. Order an extension cable separately.
Specifications
Visible-light semiconductor laser
(wavelength: 660 nm, 1 mW max., IEC/EN Class 2, FDA Class II 1 )

(Defined at the measurement center distance) 2

Load power supply voltage: 30 VDC max., Load current: 100 mA max.

(Residual voltage: 1 V max. (load current 10 mA or less), 2 V max. (load current of 10 to 100 mA))

Digital display (red), output indicator (OUT1, OUT2) (orange), zero reset indicator (orange), menu indicator (orange), laser ON indicator (green), and smart tuning indicator (blue)

Super-high-speed (SHS) Mode: 1 ms

Temperature characteristic 3

Linearity 4

Resolution 5

Illumination on received light surface:

Illumination on received light surface:

Operating: -10 to 55°C, Storage: -15 to 70°C (with no icing or condensation)

10 to 55 Hz, 1.5-mm double amplitude, 2 hours each in X, Y, and Z directions

Degree of protection 6

Pre-wired model (Standard cable length: 2 m, 5 m)

Case and cover: PBT (polybutylene terephthalate), Optical window: Glass, Cable: PVC, Mounting hole part: SUS303
Note: False detection outside the measurement range can occur in the case of an object with high reflectance.
---