электродвигатели Sigma-5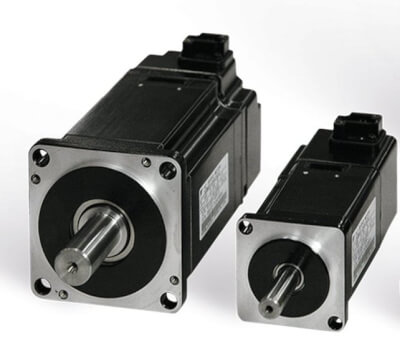 Сервопривод высшего класса
Новая модель Sigma-5 имеет великолепное качество, надежность и производительность. Эта модель разработана, чтобы оправдать и превзойти все ожидания пользователя от сервопривода.
Мощность от 50 Вт до 15 кВт, расчетные скорости вращения 1500 и 3000 об/мин
Пиковый крутящий момент 350% от номинального в течение 3 секунд
Автоматическое распознавание двигателя сервоприводом
Доступны IP67 и маслозащита вала
Энкодеры с высоким разрешением
Лучшее решение с многооборотным энкодером
Компактный дизайн и прочная конструкция
Ordering information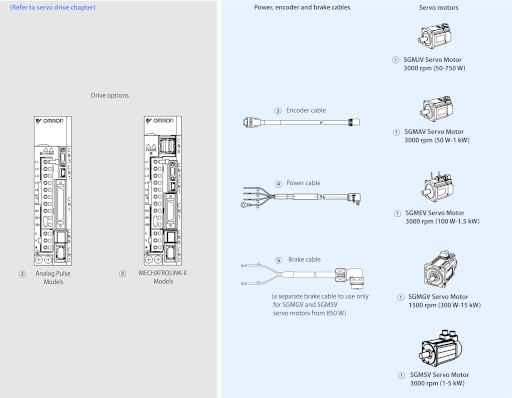 Note: The symbols ① ② ③ ... show the recommended sequence to select the servo motor and cables
Servo motor
① Select motor from families SGMJV, SGMAV, SGMEV, SGMGV, SGMSV using motor tables in next pages.
Servo drive
② Refer to Sigma-5 servo drive chapter for detailed drive specifications and selection of drive accessories.
Servo motor
SGMJV - servo motors 3000 r/min (50 - 750 W)
SGMAV - servo motors 3000 r/min (50 W - 1 kW)
SGMEV - servo motors 3000 r/min (100 W - 1.5 kW)
SGMGV - servo motors 1500 r/min (300 W - 15 kW)
SGMSV - servo motors 3000 r/min (1 - 5 kW)
Encoder Cables
for sigma-5 servo drive
Sigma-5 incremental encoder cable

Sigma-5 absolute encoder cable (with a battery case) for SGMJV/AV Servo motors

Sigma-5 incremental encoder cable

Sigma-5 absolute encoder cable extension with a battery case for SGMEV Servo motors

Note: *1 This cable is only an extension and must be used in conjunction with incremental encoder cable
*2 R88A-CRWA0__C-DE

Sigma-5 incremental encoder cable

 

Sigma-5 absolute encoder cable (with a battery case) for SGMGV/SV Servo motors
Power cables
For 200 V servo motors without brake

For 200 V servo motors with brake

For 200 V servo motors without brake

For 200 V servo motors with brake

For 200 V servo motors without brake

For 200 V servo motors with brake

For 200 V servo motors without brake

For 200 V servo motors with brake

For 200 V servo motors without brake

For 200 V servo motors with brake

For 400 V servo motors without brake

For 400 V servo motors without brake

For 400 V servo motors without brake

For 400 V servo motors with brake

For servomotors with brake, a separate cable (JZSP-CVB12-__-E-E) is needed

For servomortors with brake, a separate cable
(JZSP-CVB12-__-E-E) is needed

For servomortors with brake, a separate cable
(JZSP-CVB12-__-E-E) is needed

For servomortors with brake, a separate cable
(JZSP-CVB12-__-E-E) is needed

For servomortors with brake, a separate cable
(JZSP-CVB12-__-E-E) is needed
Brake cable (for SGMGV-09/13/20/30/44/55/75/1A/1E and SGMSV-10/15/20/25/30/40/50 Motors)
 

For 400 V servo motors with brake

SGMGV-(09/13/20/30/44/55/75/1A/1E)D_A_C_
Specifications
Type SGMJV, 230 V
Ratings and specifications
Rated output1

Instantaneous peak torque1

Rated current1

Instantaneous max. current 1

Rated speed1

Max. speed1

Rated power rate1

Rated angular acceleration1

Totally-enclosed, self-cooled, IP65 (excluding shaft opening)
Type SGMAV, 230 V
Ratings and specifications
Rated output3

Instantaneous peak torque1

Rated current1

Instantaneous max. current1

Rated speed1

Max. speed1

Rated power rate1

Rated angular acceleration1

Totally-enclosed, self-cooled, IP65 (excluding shaft opening)
Type SGMEV, 230 V/400 V
Ratings and specifications
Rated output5

Instantaneous peak torque1

Rated current1

Instantaneous max. current1

Rated speed1

Max. speed1

Rated power rate1

Rated angular acceleration1

Totally-enclosed, self-cooled, IP55 7
Type SGMGV, 400 V
Ratings and specifications
Rated output8

Rated torque1

Instantaneous peak torque1

Rated current1

Instantaneous max. current1

Rated speed1

Max. speed1

Rated power rate1

Rated angular acceleration1

Totally-enclosed, self-cooled, IP67 (excluding shaft opening)
Type SGMSV, 400 V
Ratings and specifications
Rated output9

Instantaneous peak torque1

Rated current1

Instantaneous max. current1

Rated speed1

Max. speed1

Rated power rate1

Rated angular acceleration1

Totally-enclosed, self-cooled, IP67 (excluding shaft opening)
Dimensions
Type SGMJV (230 V, 50-100 W)

Type SGMJV (230 V, 200-750 W)

Type SGMAV (230 V, 50-150 W)

Type SGMAV (230 V, 200-750 W)

Type SGMEV (230/400 V, 100-1,500 W)

Type SGMEV (400 V, 300-650 W)

Type SGMGV (400 V, 300-450 W)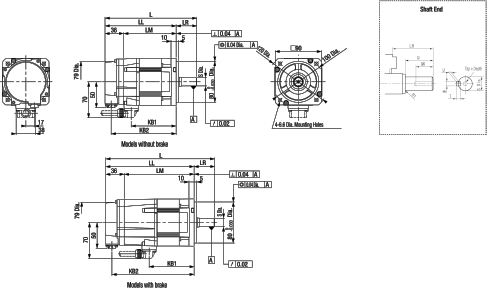 Type SGMGV (400 V, 850 W-7.5 kW)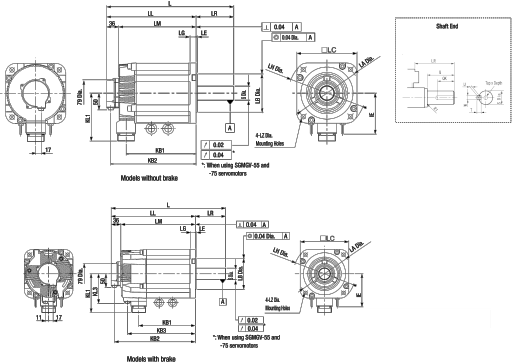 Type SGMGV (400 V, 11 - 15 kW)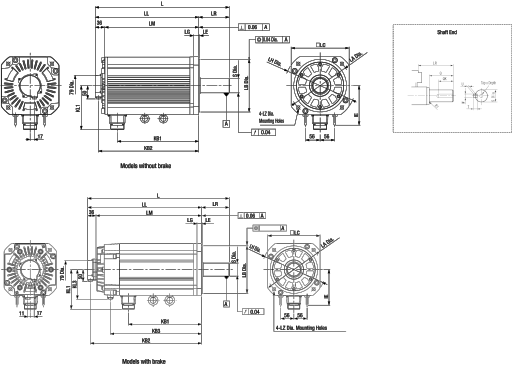 Type SGMSV (400 V, 1 - 5 kW)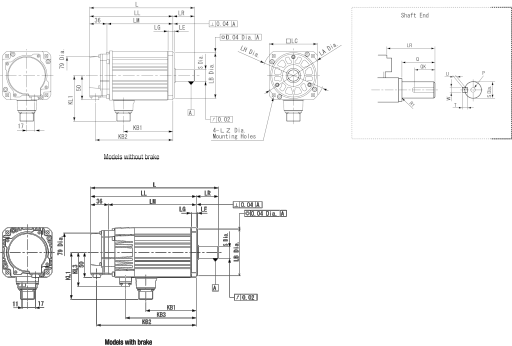 ---