K3HB-C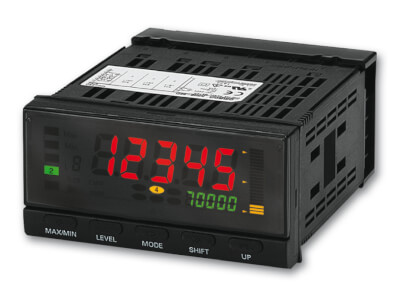 Скоростной индикатор-измеритель для прямого/обратного счета импульсов
Панельные индикаторы-измерители с аналоговыми входами серии K3HB снабжены ярким и удобным дисплеем, способным изменять цвет показаний. Все модели выпускаются в корпусе с пыле- и водонепроницаемой лицевой панелью со степенью защиты IP66. K3HB-C характеризуется высоким быстродействием с частотой дискретизации до 50 кГц.
Графическая шкала уровня повышает наглядность индикации
Возможность дополнения интерфейсом связи (DeviceNet, RS-232C, RS-485)
Двухстрочный, пятиразрядный, двухцветный дисплей
Габариты: Высота 48 x Ширина 96 x Глубина 100 мм
Агрессивная среда
Устройства контроля могут подвергаться агрессивному воздействию среды, во время технологического процесса на них могут попадать брызги или оседать пыль, они могут нагреваться от технологического оборудования. Все устройства E5CN, E5CSV, H7CX, H5CX и K3HB оснащаются передними панелями NEMA4X (эквивалент IP66), поэтому они подходят для использования в таких условиях. Кроме того, благодаря низкопрофильной конструкции устройства меньше выступают на передней части шкафа, поэтому снижается вероятность их загрязнения.
Ordering information
No voltage contact: 30 Hz max.
Voltage pulse: 50 kHz max.
Open collector: 50 kHz max.

Timer interval indicator K3HB-P1

Up/down counting pulse indicator K3HB-C1
Option boards
Sensor power supply/output boards
K33-CPA 2

K33-L1 A 3

K33-L2A 2

K33-A 2

K33-FLK1 A 2

K33-FLK3A 2
Relay/transistor output boards
Event input boards
Accessories
Note: K32-DICN special cable accessory (for event inputs with 8-pin connector) available on request. Please contact your Omron representative.
Specifications
100 to 240 VAC (50/60 Hz), 24 VAC/VDC, DeviceNet power supply: 24 VDC

85 to 110% of the rated power supply voltage, DeviceNet power supply: 11 to 25 VDC

100 to 240 V: 18 VA max. (max. load), 24 VAC/DC: 11 VA/7 W max. (max. load)

Negative LCD (backlit LED) display 7-segment digital display
(character height: PV: 14.2 mm (green/red); SV: 4.9 mm (green))

ON residual voltage: 2 V max., OFF leakage current: 0.1 mA max., load current: 4 mA max.
Maximum applied voltage: 30 VDC max.
---